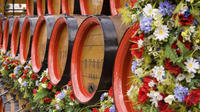 791 €
L'activité n'est pas disponible, essayez une autre recherche !
7-Day Beer and Breweries Tour by Bike and Train from Salzburg to Munich
Explore the breweries of the Salzburg and Munich areas on a 6-night tour that includes three days of independent biking. Especially designed for beer lovers, the self-guided cycling tour takes you along the Salzach and Inn rivers where you can taste the freshest and coldest pints at historical breweries located inside monasteries, as well as a few private breweries where you'll learn the art of making beer. Then, head from Austria to the German beer capital of Munich by train to further quench your thirst for good brews. If the dates coincide, you might have the chance to experience Munich's legendary Oktoberfest celebrations. This is a one-way tour, ending in Munich. Six nights of accommodation and breakfast are included, plus one dinner.
You'll spend six nights at local bed and breakfasts (B&Bs) and/or boutique hotels in Salzburg, Franking, Trumer Lakes, and Munich. One dinner is included, as well as breakfast each morning. Drinks, snacks, and other meals are at your own expense. Cycling takes place on Days 2, 3, and 4, after which you'll take a train from Salzburg to Munich for the last two nights.

Day 1: Salzburg
Upon your arrival in Salzburg, make your own way to the hotel and receive a briefing about your tour, which begins this evening with Die Weiße, a wheat beer brewery, and the Augustinerbräu.

Day 2: Biking, Salzburg to Franking (B)
Your 3-day self-guided cycling expedition to the hidden gems of local beer brewing begins today. Ride along the rivers Salzach and Saalach to reach Bavaria, where you'll stop to taste the beer of Schönramer Brewery. Continue to Lake Abtsdorfer, and visit the Silent Night chapel before arriving at Franking via the Salzachauen. You will retire here for the night.

Day 3: Biking, Franking – Trumer Lakes (B)
Today the cycling tour takes you through Ibmer Moor, a nature reserve, and past Schnaitl Brewery until you reach the Benedictine abbey at Michaelbeuern. Continue over a hill called Haunsberg and down to the Trumer Lakes, home to award-winning Austrian beer producers Creativ Brauerei and Privatbrauerei Trumer. Enjoy a supply of beer for the evening in the beer garden of the Brewery Inn.

Day 4: Biking, Trumer Lakes – Salzburg (B)
Ride from Obertrum via Seekirchen to Eugendorf along a cycling path built right on the Ischl train tracks that lead to the old part of Salzburg. Today, beer highlights await you at Stiegl Brauwelt and the Kastners Schenke with its Kloanen Brauhaus. Later, after returning to Salzburg, you can explore the old town on your own to admire its rich baroque architecture.

Day 5: Salzburg – Munich (B, D)
Board the train to Munich, where you'll check into your hotel and then enjoy free time to explore the city on your own. In the evening, take a Bavarian beer and food tour to learn about the history and culture of German brewing. Dinner is included tonight.

Day 6: Munich (B)
The morning is free for you to explore Munich independently, or perhaps head to the Oktoberfest Gardens, if you wish, where beer tents are available for Munich's famous beer festival that takes place every fall.

Day 7: Departure from Munich (B)
Check out of your hotel to end your tour.