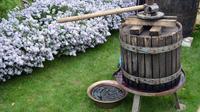 676 €
5-Day Tour of the Wineries of Moldova from Chisinau
Shaped as a bunch of grapes, Moldova is situated in the South-East of Europe, sandwiched between Ukraine and Romania, in the Black Sea basin, where the vine originates. The country has a fragmented relief, with low hills, sunny plateaus and plains, crossed by a lot of streams which flow into the two big rivers, Prut and Dniester. This 5 day tour will let you see the specific on Moldovan wine culture and visit the most famous wineries of Moldova.
Day 1
Meet and Greet at the Chisinau International Airport.
Transfer to The Hotel (Hotel Codru 4*) and enjoy d
inner at the hotel.
Day 2
Breakfast at the Hotel and d
eparture time is 8am to v
isit and wine tasting at Milestii Mici wine cellar.
Far from the borders of republic there is a well-known appreciated and preferred production of the
Milestii Mici
Winery, the oldest place of storage of the "holy drink".
Dinner at a traditional Restaurant with live music.
Transfer to the Hotel
Day 3
Breakfast.
Excursion: wine tasting and lunch at Cricova Winery
The Integrated Factory Cricova is a true pearl of Moldavian wine-making. The excellent Moldavian wines are aged and preserved in the famous Cricova limestone mines (they have almost 60 km in length), under careful custody of wine-makers. Today Cricova is an underground town. Then, enjoy an
excursion
and wine tasting at Chateau Vartely.
It is a unique Moldavan project for producing wines according to classic European quality standards. This is the first winery in the country of complete cycle – from growing grapes to bottling – modelled on a French chateau
Transfer to the Hotel back in Chisinau.
Day 4
Breakfast at the Hotel followed by a tour to
Et Cetera winery with wine tasting and lunch.
The vineyards "Et Cetera" were planted in 2003, in village Crocmaz, Stefan Voda region, ideal by its climatic condition for growing best vineyards. The winery was built in 2009 and at the moment it is surrounded by 50 ha of vineyards.
Visit the Famous Purcari Estate- Excursion and wine tasting
The major goal of creating such a company was the revival of the production of unique and famous sorts of wine like: Negru and Rosu de Purcari (Purcari Black and Red wines). The production of the Purcari wine was recreated, the ancient cellars, dating from 1827, were renovated. Nowadays, these cellars are considered to be the oldest and the most well known cellars in Moldova.
Transfer to the Hotel. Back to Chisinau.
Day 5

Breakfast at the Hotel then v
isit Chateau Mimi
Founded by Constantin Mimi, the last governor of Bessarabia, the "mimí" winery is still located in Bulboaca. Their premium class wines, especially Cabernet Sauvignon 2012, have won awards at different international contests in Bruxelles, Bucharest and Vienna. These wines stand out due to their rich aroma and flowery taste.
Departure to the airport.