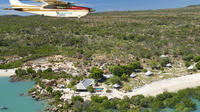 4 €
5-Day Mitchell Falls and Kimberley Coast Air and Ground Tour from Kununurra
This ultimate Kimberley experience, combines exhilarating scenic flights, private ground tours, pristine wilderness and archaeological heritage, coastal cruising and fishing, accommodation and gourmet meals - an extraordinary once in a lifetime opportunity.
Day 1   Kununurra - Mitchell Falls (B,L,D)
Departing Kununurra at 7am, track westward to El Questro, the Cockburn Ranges, Home Valley Station, onto Mitchell River Falls for a close orbit and landing at the bauxite rich Plateau airfield. You are welcomed by your tour guide and checked in to the nearby Mitchell Falls Wilderness Lodge before departing on your private guided hike to the Mitchell Falls (by luxury 4WD). Enjoy a picnic lunch at the falls before being collected by helicopter for a scenic return to base. Finish your day with a swim in the billabong or a short walk. Enjoy a gourmet dinner, campfire with new friends, and luxury tent accommodation at the exclusive KWA Mitchell Falls Wilderness Lodge.

Day 2 - 4   Mitchell Falls - Kimberley Coastal Camp (B,L,D)
You are collected from the Mitchell Falls Lodge for the 4WD journey to Walsh Point and boat ride to the Kimberley Coastal Camp. There is no place like the Kimberley Coastal Camp, and there is no other place further from where you have come.

Your time at the camp is yours to plan at your leisure. The atmosphere is relaxed and unpretentious, with no pre-set itineraries. You set your own pace with the always helpful guidance of your hosts, Tub and Julie. Spend your time mud crabbing, fishing for Barramundi or any of dozens of other species in the pristine azure waters. Or simply explore on foot or by boat an ancient land and experience the local wildlife, bush tucker, and medicines first hand. Discover remarkable Wandjina and Gwion Gwion (Bradshaw) rock art which has been part of this landscape and the lives of its traditional owners for thousands of years. Or you may prefer to leisurely cruise and picnic on boab tree fringed deserted islands, or just relax on a day bed with a cold drink under a cloudless Kimberley sky.

Day 5  Kimberley Coastal Camp - Kununurra (B,L)
Return by boat and 4WD to the Mitchell Plateau airfield. Departing Mitchell Plateau, track for Port Warrender, and the Pearl farms of Vansittart Bay, followed by the historic WWII Truscott airbase and Boome-Napier Bay where you land at the remote aboriginal community of Kalumburu. Transfer to the shaded lawns of the old Mission for a sumptuous morning brunch and tour of its fascinating museum. Before departing Kalumburu, pay a visit to the community art centre and the WWII aircraft graveyard where the remains of many old aircraft can be studied.

From Kalumburu, track to the mouth of the Drysdale River then on to Faraway Bay and the nearby King George Falls. Continue along the Timor Sea Coast with its pristine beaches, rocky headlands and islands, and remnant rainforests. Overfly the exclusive Berkeley River Lodge then onwards to the Cambridge Gulf and Ord River delta and wetlands. Your tour concludes along the lower Ord River and irrigated farmlands of Kununurra.