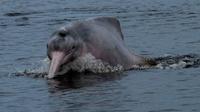 382 €
5-Day Cuyabeno Reserve Amazon Rainforest Trip
The Cuyabeno Wildlife Reserve is an important National Ecuadorian Park in the Amazonia with rather unique ecological characteristics.
Located at the foothills of the Andes, it is different from any other Amazon protected area in the world.
Day 1: Lago Agrio – Big Lagoon 
Make your way to Lago Agrio, where you'll meet up with a guide between 8:30am and 9:00am, then transfer to the Cuyabeno River with a boxed lunch on the way.

Upon arrival, all visitors must register at the Cuyabeno Reserve office and pay the park's entrance fee (not included). The naturalist guide will start with an orientation about the reserve's wildlife and plants, then set out on the 2-hour river journey to the Big Lagoon, where the lodge is located.

As you travel, watch for monkeys, toucans, parrots, insect, and plants of all kinds. After check-in at the lodge, you'll have time to relax before an hour-long night walk through the primary forest, the perfect time to spot amphibians and reptiles. Return to the lodge for a welcome cocktail and dinner. Overnight in double rooms

Day 2: Puerto Bolivar
After breakfast, depart to the Puerto Bolivar to meet the Siona Indian community, the largest ethnic group in the Reserve. During this tour you will learn their customs, traditions, and ways of life, learning to prepare casabe, a dish made of yucca. You'll also eat lunch within the community, and visit the local shaman. 

During the two-hour river trip to Puerto Bolivar, you'll have a good opportunity to see birds, monkeys, snakes, pink dolphins, and tortoises from the boat. Return to the lodge, then head back out after dark to spot caymans before dinner. Accommodation in double rooms

Day 3: Rainforest Trek and Swimming
After breakfast, set out on a hike through the primary rain forest for  three to five hours, exploring a complex tropical ecosystem where you'll find a great variety of plants and trees. 

Have lunch back at the lodge, then enjoy an afternoon on the Big Lagoon, with time to fish for piranhas, swim, and watch the sunset.  Return to the lodge for dinner and overnight in double rooms. 

Day 4: Canangueno Lagoon
Travel by a traditional paddle canoe as you go bird-watching on Canangueno Lagoon, then set out for another hike through the forest. Overnight in double rooms.

Day 5: Return to Lago Agrio
Rise early for an optional bird-watching excursion before breakfast. Check out of the lodge and begin the return trip to Lago Agrio, where this tour concludes.