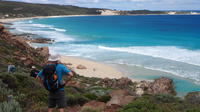 983 €
L'activité n'est pas disponible, essayez une autre recherche !
4-Day Margaret River Active Tour from Perth Including the Cape to Cape Track, Wineries, Caves and Galleries
This tour has it all, adventure, sight seeing and relaxation! Over 4 days, walk the highlights of the iconic Cape to Cape Track, exploring the white sand beaches, turquoise waters and cliff top vistas of this spectacular coastal trail. Carrying only a small day pack and enjoying delicious and healthy meals (and yes all dietary requirements are catered for) this tour is designed to provide adventure with maximum comfort. To make your visit to the Margaret River region complete, the itinerary also includes a visit to Jewel Cave, one of over one hundred limestone caves in the area, wine tastings, lunch at a winery, an art gallery, a visit to the Augusta lighthouse and a whole lot more. The small group size means there are plenty of opportunities to develop new friendships and share experiences.
Day 1 – Drive from Perth, walk Smiths Beach to Wyadup, 7-km walk (LD)
Leave the big smoke behind and head 'down south', departing Perth at 8:30am. Enjoy a picnic lunch in the picturesque seaside town of Yallingup before starting the short but spectacular walk. There are a few rocky and hilly challenges early on but the deeply dissected red granite boulders and the turquoise oceans beyond are worth the effort. After a full day, head to your accommodation in Margaret River for a wine before dinner at the motel restaurant.
Note: As you walk on the first afternoon, you will need to wear your walking clothes on the bus and have your day pack (water, camera etc) ready to go.
Accommodation: Grange on Farrelly Margaret River 

Day 2 – Moses Rock to Gracetown, 16-km walk (BLD)
A fairly full day of easy going walking. There are a few hills and some sandy patches but the terrain is generally fairly easy. The magnificent sweeping views of the coast from cliff-top vantage points, the towering red rocks of Willyabrup, as well as some 'gnarly' surf breaks will have you enchanted all day. Finish in the small township of Gracetown where you might enjoy a refreshing swim in the sheltered bay.  After the walk, head to a local botanical artist gallery to view her stunning studio and "Chapel of Flowers".
Accommodation: Grange on Farrelly Margaret River 

Day 3 – Redgate Beach to Contos or Boranup Forest, 7-km walk (BLD)
Start with a short beach walk along the beautiful Redgate Beach before making our way to Bob's Hollow, where there is time to explore the awesome limestone crags and caverns. Climbing out of Bobs Hollow brings you to the clifftops above Contos Beach and Cape Freycinet. Here the Cape to Cape weaves through thick coastal vegetation and delivers some spectacular coastal views over the turquoise waters below. We will head back to the accommodation so you can freshen up before heading out for a winery lunch.  Followed up by a few more winery visits, it is a great fun afternoon with a touch of decadence.
Accommodation: Grange on Farrelly Margaret River 

Day 4 – Jewel Cave and walk near Cape Leeuwin, 3-km walk (BL)
No visit to the Margaret River region would be complete without experiencing one of the many caves that underlie this area. This morning explore Jewel Cave. This 1.9-kilometre long, 42-metre deep cave is the most beautiful of Margaret River's 350 caves. Following the cave exploration, complete your final walk for the tour a short 3-km walk to Cape Leeuwin, where the Southern and Indian Oceans meet. It is a very pretty area and is a lovely way to finish your Cape to Cape experience.
After lunch in Augusta, board the bus one last time for the drive back to Perth where you should arrive by about 5pm.