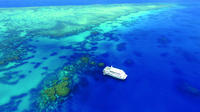 1 €
4-Day Great Barrier Reef Cruise to Hinchinbrook Island from Cairns
This 3 night Southern Reef Expedition itinerary takes guests to some of the Southern Great Barrier Reef's most biologically significant areas including reefs, beaches and rainforest.
From the mangrove channel at Hinchinbrook Island to the ancient rainforest of Dunk Island, and the pristine remoteness of Sudbury Cay, guests onboard will experience a myriad habitats, both on land and at sea. Spend time exploring the underwater world's of Coates and Nathan Reefs, and visit the Turtle Rehabilitation Centre on Fitzroy Island – you may even be able to swim with a Sea Turtle just off the beach!
Enjoy presentations by our Marine Biologist detailing area's the eco system and marine biodiversity when cruising through the Hinchinbrook Channel, where we are the only commercial vessel that can fit through this area.
For a Great Barrier Reef experience that offers a sample of rainforest, mangrove and reef, the 3 night itinerary is an excellent choice.
Please note the below is a guide only. Itineraries are flexible to allow to best adapt to weather conditions at the time.

Day 1: Cairns and Thetford Reef
Board at Cairns' Trinity Wharf at 10am (taxi from any CBD accommodation is approximately 5-15 minutes from the wharf). Cruise to Trinity Bay followed by Thetford Reef for snorkeling, glass bottom boat tours, fish feeding display, optional scuba diving (payable direct), Sudbury Cay drinks ashore, Captain's welcome seafood buffet at 7pm for dinner that evening.

Day 2: Hichenbrook Channel and Tropical Beach BBQ
Cruise the scenic Hinchinbrook Channel, separating Hinchinbrook Island from the mainland. You may even spot crocodiles, dolphins, whales, turtles and dugongs. Enjoy interpretive commentary and mangrove tour, discover a tropical island, take a guided bushwalk, indulge in a gourmet Aussie beach BBQ meal, snorkel and dive over the island's fringing reef showcasing a giant clam garden, kayak and take a glass bottom boat tour or relax on the sandy beach.

Day 3: Dunk Island Rainforest and Nathan Reef
Rainforest walk on tropical Dunk Island with naturalist guides. Look for the striking electric-blue Ulysses butterfly. Take the afternoon to discover colorful Nathan Reef whilst you snorkel, SCUBA dive (payable direct) and take a glass bottom boat tour with the interactive marine biology presentation at the on-board display tank.

Day 4: Fitzroy Island and Cairns
Idyllic bushwalks and hikes, snorkel over the fringing reef, beach-combing on the white sands of Nudey Beach, enjoy the resort facilities, cruise concludes at Trinity Wharf, Cairns at 1:30pm. Complimentary return transfers will drop you off to any Cairns CBD accommodation or to the Domestic or International Airport. Transfers to destinations outside of these areas, you will need to take a taxi.