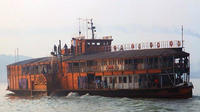 324 €
L'activité n'est pas disponible, essayez une autre recherche !
3-Night Paddle Steamer and Backwater River Cruise
Witness Bangladesh's beautiful rivers, back waterways and channels through this all-inclusive tour. Bangladesh is a riverine country with about 700 rivers and tributaries flow through its land, totaling in about 15,000 miles (24,140 kilometers) in waterway length. This tours starts with the river cruise from Dhaka and takes you to Dhaka via waterways. Along the way you'll visit archaeological places in Bagerhat and a backwater trip in Barishal to watch floating market activities.
Day 1
3:30pm to 5:30pm: We will meet you at your place of residence or hotel and start our journey to Sadarghat; the steamer terminal is one of the most crowded places of Dhaka.

6pm to overnight: After experiencing the busy port, our paddle steamer will pick you up at 6pm, just in time for dinner. After dinner, you can step outside for a breath of fresh air and take in the surrounding areas.

Day 2
6am to 10am: There's no need to wake up so early unless you're interested in capturing the scenic beauty of village morning; otherwise, you can lie in bed and enjoy breakfast in your room. During this time the streamer will pass through a number of rivers and reach Hularhat.

10:30am to 2:30pm: You will be taken to different places in Bagerhat such as Khan Jahan's mausoleum, Shat Gombuj (Sixty Dome) Mosque and a museum. We will have lunch in Traditional Restaurant near Steamer Station.

2:30pm to 6:30pm: We will try to see the returning steamer to reach Barishal, if time allows. Otherwise, we will catch a local bus to reach Barishal. You will check in to a hotel and stay overnight.

Day 3
5:30am to 8:30am: In order to catch the floating market, you'll need an early start. Traveling via Tuk Tuk, you'll reach the bank of Shondha River from where you will start back water trip.

8:30am to 5pm: You will be exploring the backwater trip and riverside life of Bangladesh by local engine boat. On the path you will find unique floating vegetable gardens, colorful floating market. If it's during the rainy season, you may find a wood boat market along with Guava Market most of the day. You'll move through rivers and canals, where you'll learn about different fishing techniques and how the river plays a lively part in village life. You'll have lunch in a homely restaurant and after you'll take a trip to the Guthia Mosque.

6:00pm to overnight: You will start the return overnight journey to Dhaka by steamer. If your trip lands on a full moon, you'll be able to enjoy the view from the roof.

Day 4
When the cruise ends, we will take you back to your hotel in Dhaka.