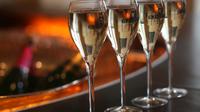 69 €
L'activité n'est pas disponible, essayez une autre recherche !
3-hour Small Group Vienna Wine Walk
Wine has been a staple of Austrian culture for centuries, and the capital city of Vienna is itself a wine growing region. In fact, it is the world's only major city to produce a significant amount of wine within its city limits, making wine an essential part of Viennese culture. The outskirts of the city are filled with wonderful traditional taverns (called heuriger) where you can enjoy wine made on the spot along with traditional fare and gorgeous vineyard view. But in the city center, the wine scene has a more modern face, which is what we will discover on this walking (and tasting) tour of Viennese wine bars.
Vienna is buzzing with wine bars and vinotheks which offer fantastic arrays of Austrian wine (including home-grown Viennese wine). This tour will introduce you to both the wines of Austria, and to some of our favorite neighborhood drinking holes. You'll meet your guide (a certified sommelier and passionate enthusiast of Austrian wine) at a central location, but the wine bars visited will be in residential neighborhood: places where locals meet after work to catch up with friends. You'll also visit one bar at the buzzing Naschmarkt, where people-watching is as much a part of the scene as the wine. You will taste a different Austrian wine at each location (as well as a selection of local cheese and charcuterie at one place), while you discuss the regions, grape varieties, styles, and history with your sommelier guide. Among the wines you will sample will be the local Viennese Gemischte Satz, a fresh and aromatic field blend which is currently experiencing a revival and has been included in the Slow Food "Ark of Taste." By the end of the evening you will have a good grasp on what Austrian wine has to offer; you'll have picked up some fun little-know-facts about each wine; and you will have an understanding about the importance of wine in Austrian and Viennese culture.

Learn—Discover Austrian wine and Viennese wine culture in the company of a certified sommelier. Learn about the regions, grape varieties, styles, and history.
Experience—Drinking like a local in neighborhood wine bars, including one at the Naschmarkt and one devoted exclusively to Austrian sparkling wine.
Walk—Though there will be plenty of time spent sitting to enjoy the wine, we will also cover some ground on foot, while seeing a vibrant residential district with a resident.
Taste—Put Austrian wine in context as you taste five wines, while discussing the state of Austrian winemaking, some of the important regions, and the major varietals. There will be some local cheese and charcuterie at one venue to accompany the wine. Some of the best-known Austrian wines are yeasty Sekt (Austrian sparkling wine), aromatic Gemischter Satz, spicy Grüner Veltliner, fruity Blaufrankisch, St. Laurent, and Zweigelt. You'll taste some of these, and perhaps others as well.