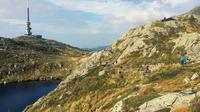 98 €
L'activité n'est pas disponible, essayez une autre recherche !
3-Hour Mt Ulriken Scenic and Cultural Hike
Enjoy a 3-hour self-guided round trip hike at Mt. Ulriken, where you can enjoy the scenic view over the city, fjords and mountains and get the story of the area along the route. Perfect hike for cruise tourists and others who would like a short alternative to the Vidden hike.
This mountain hike starts and ends at the summit of Mt. Ulriken. This route has local cultural history as well as beautiful and wild highland nature and scenic views. To the south you might see the Folgefonna glacier and to the west the North sea. You will walk to "Turnerhytten" one path and return on another path, passing among others ruins of old cabins and get the story on your app.
After taking the bus from the city center, you take Ulriken cable car up to Mt. Ulriken (643 MASL). At the top, you can enjoy the view over the city before you start the hike. Return to the city center also with Ulriken cable car and bus.
Route info: The terrain is uneven, and can also be a bit muddy. All hiking will be on a mountain path and not mountain road. The weather can change rapidly, and the climate is different from the city. The route is 4,5 km and takes approx. 2,5 hours + lunchbreak, depending on your pace. This is a self-guided tour, which means that you will be provided with an app, that will guide you. You will also be provided with written information about the places you visit.
Practical information: Equipment and tickets will be provided at our office in the city center, at Bryggen. Be sure to have enough water in your backpack, it is possible to fill your bottle at both Mt. Ulriken. We recommend using hiking shoes, warm and windproof clothing, a backpack with extra clothing, camera and sunglasses. Remember to dress according to the weather!
Be aware that this route is sensitive for bad weather, and we do not recommend hiking in fog and strong wind. If there is too much wind, the cable car will close, and the hike is not possible to conduct. In that case, the hike will be cancelled, and your money will be fully refunded.
Example time table:
09.30: Meet at our office for tickets, app and information
10.00: Ulriken bus from the city center
10.30: Arrival at Ulriken, pick up lunch package
11.00: Start the hike 12.30: Eat lunch at Turnerhytten
14.00: Arrival at Mt. Return Ulriken Cable car
14:30-14:45: Bus to Bergen
This is an example timetable, where we estimate you to use 3 hours on the hiking However, you can start the trip later in the day, beware cable car closes at 9PM