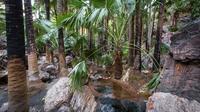 5 €
L'activité n'est pas disponible, essayez une autre recherche !
13-Day Broome to Broome Trip Including Gibb River Road the Bungle Bungles and optional Mitchell Falls
Leaving Broome behind, travel though the Kimberley visiting iconic sites including Geikie Gorge, Bungle Bungles, Emma, Bell and Windjana Gorges and Tunnel Creek.  You will also visit some lesser known sites including Mimbi Caves.  Bring your swimmers as the winters here in the Kimberley are a pleasant 28 - 30 degrees.  Free day in Kununurra (own expense) allows you to do some Barra Fishing, fly to Mitchell Falls or visit our galleries.
Day 1: Broome to Derby (L,D)
Leaving Broome behind start the journey to Derby. Tonight settle in close to the mighty Fitzroy River. Fitzroy River Lodge.
Day 2: Derby to Bungle Bungle Station (B,L,D)
Spend the morning exploring the little known Mimbi Caves before continuing to Bungle Bungle Station where you will stay for the next 2 nights. Bungle Bungle Station Safari Tent.
Day 3: Purnululu National Park (B,L,D)
Spend the day in the World Heritage-listed Purnululu National Park. Bungle Bungle Station Safari Tent
Day 4: Kununurra (B,L,D)
Today it's onto Kununurra, the youngest town in WA , gazetted as part of the ORD Irrigation Scheme.  This afternoon cruise on the mighty Ord River, Lake Kununurra. Ivanhoe Village
Day 5: Kununurra (B,L,D)
Today you have a free day to explore as you wish (own expense).  Visit our many Galleries and Diamond stores, try your hand at Barra Fishing or take a flight to the amazing Mitchel Falls. Ivanhoe Village
Day 6: Wyndham (B,L,D)
This morning we visit one of the oldest towns in WA. Wyndham.  Here we drive to the top of the Bastion Range and view the 5 major rivers of the East Kimberley entering the Cambridge Gulf.  Home Valley Station
Day 7: Zebedee Springs and Emma Gorge (B,L,D)
Travel along the Gibb River Road, with the opportunity to soak in the warm waters of Zebedee Springs and the icy waters of Emma Gorge.  We cross the iconic Pentecost Crossing twice today with opportunity for grest photos. Home Valley Station
Day 8: Gorges of the Gibb (B,L,D)
Today is a day of walking, swimming exploring. We visit Manning Gorge and Galvins Gorge.  Bell Gorge Imintji Camp
Day 9: Bell Gorge (B,L,D)
Today we explore the beautiful Bell Gorge at our leisure.   Bell Gorge Imintji Camp
Day 10:  King Leopold Ranges (B,L,D)
Soak up the beauty of the King Leopold Ranges, often referred to as the most beautiful region of the Gibb River Road. Overnight: Mt Hart Homestead Safari Tent
Day 11: Tunnel Creek and Windjana Gorge (B,L,D)
Today visit Tunnel Creek and Windjana Gorge. Overnight: Fitzroy River
Day 12: Geike Gorge to Broome (B,L,D)
This morning enjoy a cruise on Geikie Gorge where you'll learn a little of the indigenous culture before returning to Broome.  Mangrove Hotel
Day 13:  Broome (B)
Take an early morning walk on Cable Beach or enjoy a sleep in.  Enjoy a last minute visit to the Perl shops or visit Broome's interesting but varied museum before heading to the airport for your flight home.