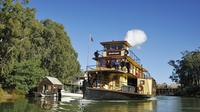 447 €
1-Night or 2-Night Murray River Cruise by Paddlesteamer Emmylou
The PS Emmylou is the only wood-fired paddlesteamer in the world offering regular overnight cruising. This tour offers 2 accommodation options ranging from a 1-night stay or a 2-night stay. Fueled by redgum logs the Emmylou exudes old-world charm whilst offering modern luxury.

Let Emmylou treat you to an unforgettable river cruise along the Murray River for a truly Australian adventure. The Emmylou provides sun decks, a dining and bar area, a galley and a front lounge. Linen and towels are provided and there are showers and toilets on the vessel.

The iconic PS Emmylou provides the opportunity to enjoy the natural, tranquil beauty of Australia's greatest river first hand, or to purchase the perfect gift.
One Night Itinerary

Saturday Evening
5.45pm: Board PS Emmylou
6pm: Depart Riverboat dock - Watson Street - Berth 4
7pm: Dinner is served as we cruise upstream away from the Port of Echuca before turning as Horse Shoe Bend. We continue downstream back under the Echuca/Moama Bridge we pass the imposing Echuca Wharf and other Paddlesteamers moored after their day on the river. We cruise 12km along the river passing Morrisons Winery before pulling into our mooring for the evening. 

Sunday Morning
7.30am: Fully cooked or continental breakfast is served. Watch the engineer fire up the engine with redgum logs for new steam or enjoy a morning bush walk
8.30am: We depart Layfield Lane for our cruise back to port, you are welcome to try your hand steering the boat with the skipper or just relax as we cruise back to Echuca
9.30am: Arrive Port of Echuca for your transfer back to your car or connecting train

2 Night Itinerary

Wednesday
12 noon: Guest registration, 57 Murray Esplanade, Echuca 
5.30pm: Guest bag drop at PS Emmylou's berth 4 dock. Watson Street, Echuca.
Cars transferred to secure parking, return via bus
5.45pm: Guests Board PS Emmylou. Your bags will be delivered to your cabin
6pm: Boat Departs for cruise upstream
7pm: 3 course dinner is served at Redgums Restaurant on the saloon deck
10pm: Boat pulls into Flemings Bend for overnight stay, campfire weather permitting

Thursday
From 7.30am Breakfast is served
8.30am: This morning your depart via bus on your Wetlands Culture & Wine Day Tour
9.15am: Arrive at Barmah, Yenbena Indigenous community centre for a cultural dis[play and
interpretation about Aboriginal Culture and the local Yorta Yorta people.
10.30am: Depart on Kingfisher Wetland Tour
Nowhere else in the world can you experience such timeless, natural beauty and peace as
when you are gliding through the World-Heritage listed Barmah Wetlands aboard the MV Kingfisher.
12.30pm: Depart for Cape Horn Winery located on the Murray River
1pm: Arrive Cape Horn Winery for lunch and wine tastings
3pm: Depart for Port of Echuca
4pm: PS Emmylou departs downstream for 2nd night
7pm: 3 course dinner is served at Redgums Restaurant on the saloon
8.30pm: Arrive Layfield Lane – Campfire subject to weather

Friday
From 7.30am Breakfast is served
8.30am: PS Emmylou departs for Port of Echuca
10am: Arrive Port of Echuca – transfer to car park – Say goodbyes