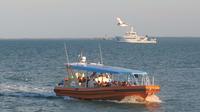 23 €
1-Hour Darwin Harbour Adventure Cruise
Departing from Stokes Hill Wharf at 1pm this adventure cruise takes in the history, habitat and intrigue of Darwin Harbour. Travelling on a state of the art boat between sites of interest, this cruise cover the highlights of Darwin Harbour with real time commentary by a local guide.
Cruise Darwin Harbour, a waterway alive with history, marine habitat and cultural significance. From shipwrecks to dolphins to hippies and crocodiles, explore Darwin from a different perspective. Officially a working harbor, the waters of Darwin share the comings and goings of cruise liners, supply ships and HMAS Coonawarra, with a plethora of sea animals and birds nurtured by healthy feeding grounds of sea grasses and mangroves. Surviving bombing raids during WW2 and the ravages of cyclones, Darwin Harbour is rich in both western history and aboriginal culture. Keep a close look out for wildlife and mammals - you are often rewarded!
This Darwin Harbour adventure cruise is an eco experience which varies from day to day and season to season. The local crew use the tides, the weather and the season to showcase harbor activity. As you cruise Darwin Harbour you will explore the unique diversity and dimension of the Harbour, taking in the habitat, history and intrigue of what is happening on the day. Visitors will experience the sounds and sights of a city harbor abounding with contemporary interest, drenched in history and with an unparalleled tropical marine habitat. This Darwin Harbour adventure cruise goes where the other boats don't go, giving you and up close and personal experience with the real Darwin Harbour.  
Things you might be able to see while on your cruise include:
An interactive tour of a mangrove waterway
A visit to a crocodile trap
The sight of a watery grave of at least one shipwreck
The historic Esplanade area, where the presence of saltwater people, colonials, Chinese, and hippies of the 1970's have made their mark
Harbor landmarks including where the telegraph cable from London came ashore
Occasionally sight dolphins and other tropical marine life