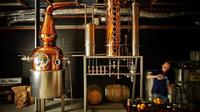 111 $
Yarra Valley Small-Group Gourmet Food and Wine Tour from Melbourne or Yarra Valley
Enjoy this Yarra Valley small-group gourmet tour from Melbourne or the Yarra Valley as your local guide takes you on a journey of discovery exploring the diverse food and wine on offer. The Yarra Valley once known for only wine, has now grown popular with it's fresh local produce and gourmet restaurants. Let your taste buds run wild as your guide takes you through the stunning valleys visiting a Coldstream Dairy, a gin distillery, the Yarra Valley Chocolaterie and Ice Creamery and a delicious lunch stop at one of the local wineries.
Begin your day with hotel pickup from either Melbourne or the Yarra Valley and head for your first stop at the Coldstream Dairy. Here you will enjoy a range of tastings from this boutique dairy, all of whose produce is made using Yarra Valley milk. Enjoy Italian-style handmade cheeses, fresh feta and yoghurt from right in the heartland of wine country. With cheese in your tummies and possibly your bags, you will then set off in search of Gin.

That's right, enjoy a gin tasting at Healesville's newest and latest most fabulous offering – an award winning boutique gin distillery called Four Pillars Gin.

Next, it'll be time for some lunch at one of the local wineries, the exact location being decided upon the day. You might visit Tokar Estate, Rochford Wines or maybe even further up the hill at Soumah. If you have a specific request, please advise at the time of booking and your tour guide will do their best to try and arrange this.

After a delicious lunch, head to Dominique Portet for a bit of elegant French culture; a tour of the barrel room and a sip or two of his fine wines on tasting. Dominique Portet is an enjoyable cellar door with the very best of staff.

To finish your gourmet day head to the Yarra Valley Chocolaterie & Ice Creamery. Here you can see the chocolate being made in the kitchen through vast floor to ceiling windows. With chocolate makers all from Belgium, this chocolaterie is home to some of the world's finest chocolate. Enjoy free samples, order a hot chocolate, wander around the amazing assortment of chocolate goods for sale or run around outside in amongst the orchards. In the months of September and October you can also see an incredible installation of 40 amazingly painted kangaroos – part of the Hop for Hope campaign being run by The Alannah and Madeleine Foundation.

Be returned to your original departure point at the completion of your day.