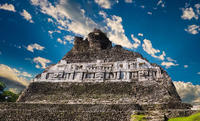 156 €
L'activité n'est pas disponible, essayez une autre recherche !
Xunantunich Mayan Temple Tour Including Che Chem Ha Cave
Visit the Majestic Mayan Temples of Xunantunich. Come and discover the famous "Maiden of the Rock," climb atop the one of Belize's tallest Mayan Temples - El Castillo (the castle). Then take a jungle trek to enter Xibalba's dark chambers of Che Chem ha. The famous Che Chem Ha Cave holds an impressive collections of Mayan Pottery still intact and untouched, left behind by the Mayan shamans who used this cave for spiritual and religious ceremonies. Enter this portal to the underworld and become spell bound by the rich history and truth that comes alive inside this mysterious cave.
Your day of adventure beings as you leave from San Ignacio Town, and board a hand cranked ferry, across the Mopan river, which flows in from neighboring Guatemala.

Xunantunich, (Maiden of the Rock) one of the earliest centers in the region pre-dating to around 1000 B.C., when it was still a growing village. This impressive monument you are able to see today dates back to the 7th century according to archaeological research. Xunantunich includes the largest Royal tomb in the country of Belize.
Be amazed by how boldly "El Castillo" stands overlooking the rest of the complexes. Climb this spectacular structure, which rises 40m (130 ft.). One of the highest man-made buildings in the country and also one of the most famous too. When you stand on top of "El Castillo," enjoy the same breath-taking view that the cities' rulers once did.
Located in the true heart of the Mayan mountains where ancient cities lie hidden beneath the jungle. Deep within the Vaca Plateu reserve, secretly tucked away there lays a gateway to Xibalba. A portal to the underworld, giving you access to a once very sacred, religious and ceremonial site.
Start your jungle trek on a hilly terrain and hike in search of the famous gateway of Che Chem Ha cave as you find your way through the lush forest. Actun Che Chem Ha, or cave of the "poisoned water," is where very important ceremonies and agricultural offerings and rituals were performed by the Mayan shamans. Inside this dry cave system, perched on ledges, you can appreciate the amazing collection of vessels (ollas) of all shapes and sizes left behind by a once great civilization.
From the moment you enter this dark world, and the deeper you venture, the larger it becomes. As you reach the mid-way point, you will encounter the largest formation (stalactites), which to the Mayans, were the roots of the tree of life that had penetrated into the under-world, and its branches went high up into the heavens. This cave has some of the earliest collection of ceramics in the region dating to around 1,000 B.C coinciding with Cahal Pech ruins, another early pre-classic site.