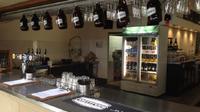 118 €
Tamborine Mountain Brewery Tour from Brisbane
Visit local craft beer breweries and sample brews from Tamborine, including Fortitude Brewing Co and Beard & Brau with a start at Newstead Brewing Co in the city. This is a small group experience featuring unique flavours and a fun day out sampling new beers and supporting the local community.
After your pick up, we will begin the day by visiting Newstead Brewing Co where you're encouraged to sample all the core range of beers on tap - plus maybe a few seasonal or one-off beers currently available. Your guides will take you through beer ingredients, including some witty, historical commentary, and enlist a brilliant Newstead team member to walk you through the brewery and explain the complete brewing process.

From Newstead we have a leisurely drive (about 70 minutes) to the top of Mount Tamborine. Take in the stunning scenery along the way, chat with your fellow beer appreciators, swap first-beer stories, or maybe play some trivia and win prizes!
Upon arrival at Fortitude Brewing we will see the working brewery and all the equipment involved in producing some delicious beer. We warm your palate up with a tasting paddle of their core beers so you can decide which you want to enjoy with lunch.
Once your belly has a bit of lining in it, we'll give you some free time to explore the Gallery Walk on your own (45-60 minutes depending on time), where you can pick up souvenirs, taste fudge or even mix up the day by sampling some local wines (at your own cost).
Upon your return to Fortitude Brewing we will provide you with your pre-ordered pizza and a schooner of your choice. As soon as everyone has finished their lunch, we'll load up the van to continue down the hill (roughly 30 minutes) to our next stop.
Be aware that the road down is a bit windy, so if you suffer from motion or car sickness, please ensure you have something to combat it or sit near the front of the van.

The amazing brewer from Beard & Brau, Chris "Fish" Herring, teamed up with his wife Tanya and created the newly-opened Malty Grain, a farmhouse-style restaurant serving Beard & Brau on tap with plates of tapas and desserts to sample. With an events calendar hosting everything from live music to beer-and-food matching degustations, guests will be pleasantly surprised with the warm and inviting atmosphere here.
Situated on roughly 4 acres, the Malty Grain is a diamond in the rough, located on the outskirts of Beenleigh, and provides a beautiful setting for relaxing and enjoying a unique style of beer. Fish is usually around to answer any questions that come up, also, and we can have a discussion here about the environmental impacts of beer, sustainability in the industry and how drinking local is better for the world!
Unfortunately all good things must come to an end, so once we leave here we will head back to Brisbane - roughly a 35 minute drive. We are happy to drop you where you were picked up, or at one of our partner pubs where you can carry on with a few more craft beers.