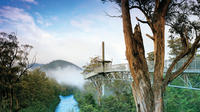 19 €
Tahune AirWalk Admission Ticket with Optional Cable Eagle Hang-Gliding
The Tahune AirWalk offers a full day of fun in the great outdoors for the whole family. Experience breathtaking views of the forest canopy, peaceful forest walks, and Tasmaninan food and wine in the licensed cafe. If you're a thrill seeker, upgrade to the Cable Eagle Hang-Gliding adventure and fly through the trees taking in the stunning surrounding views of the Tahune forest. Located only 90-minutes south of Hobart.
Located a short 90-minute drive south of Hobart, Tahune AirWalk is the perfect day out. Pick your own path to the Tahune AirWalk by taking time out to enjoy one of the many forest walks en route, all clearly signposted along the Arve Road. Did you know some of the tallest trees in the world grow in southern Tasmania?

The Forest and Heritage Centre in Geeveston is the place to visit if you want to learn more. If you feel like taking a walk, the Tahune AirWalk is a 619 meter walk and is up to 65-98-feet (20-30m) meters above the forest canopy, with breathtaking views of the Huon river. With the very last section the cantilever, sitting at a height of 48 meters above the river, this is where you will get the best views.The walk takes one hour and is wheelchair friendly. Combine it with the spine-tingling swinging bridges that cross the mighty Huon and Picton rivers the round trip takes 1.5 .

If you prefer a peaceful walk there is a Huon Pine 20 minute boardwalk where you can touch the Huon Pine trees. For those thrill seekers, you can't go past the upgrade to the eagle hang-gliding experience. Feel the wind beneath your wings as you glide through tall trees and over the Houn River. This 1312-foot (400m) long cable hang gliding experience runs from the treetops to the forest floor. Due to safety requirements passengers must weigh between 25k and 100kg.

Enjoy Tasmanian food and wine in the licensed cafe or use the picnic or BBQ facilities (own expense). Can't fit it all into one day? Stay at the AirWalk Lodge and sleep among the giants of the forest. The AirWalk lodge is ideally suited to families, couples, school groups and backpackers, with a total of 8 rooms accommodating up to 24 guests or the self contained lodge accommodating 4 guests. Guests staying also have the exclusive opportunity to experience an owl's eye view of the Tasmanian forest at night.