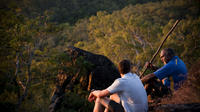 78 $
Rainbow Serpent Aboriginal Rock Art Tour
Explore six rock art sites in the company of Aboriginal Elder, Willie Gordon. Willie takes guests to visit his ancestral rock art sites, set in stunning countryside high in the hills outside Cooktown and normally inaccessible to the public. With his great smile and infectious laugh, Willie gives an amazing insight into Aboriginal society and spirituality, and will have you thinking about your own relationship with the land, and how the lores of his people can apply to us all today. Willie will take you through a dramatic landscape to six rock art sites, including the Rainbow Serpent cave and an ancestral Birth Site where Willie's grandfather was born. You'll gain an understanding of the spiritual meanings and stories behind the paintings, and along the way learn some of the survival techniques of the Nugal-warra people - and maybe taste a green ant or two! The tour includes an estimated 30-minute bush walk; there is a short climb to two of the sites, but generally the terrain is easy.
If you're staying in Cooktown Willie will pick you up at your accommodation between 7.40-8am and then you'll head out to the rock art site which is about 45 minutes drive. Willie is very entertaining on the drive and you'll hear many wonderful stories about the area, mountains, trees, bush tucker and may even spot a kangaroo or cockatoo.

Those self-driving to the Nugal rock art sites will be given directions to the meeting point outside Hope Vale upon confirmation of your booking. Willie will meet you at the site gate and will guide you along an off-road track to the entrance of the sites, where you continue on foot. (Please note that the sites are not signed as they can only be visited with a Nugal-warra Elder.) SELF DRIVE please allow 45 minutes from Cooktown to the rock art sites. The drive into the site is a bush track so if you're self driving you'll need a 4WD or highset 2WD vehicle.

Once at the site you'll follow Willie on a bush track over large boulders, through trees and bushes. Along the way Willie shares many wonderful stories about the land, bush tucker and he'll even ask you a question or two. Willie's warm sense of humour makes everyone feel at ease. The children will love the stories and Willie will get them participating in fun bush activities.