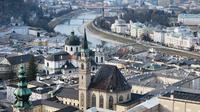 151 $
Private 4-hours Salzburg Walking Tour Including Salzburg Fortress
Spend a half day in Salzburg with your private tour guide - just you and your tour guide. Walk along the Getreidegasse where you find Mozart´s Birthplace and museum. You will see the famous baroque Prince-Bishops' Palace on Residenzplatz and the landmark the Dom; the cathedral of Salzburg and continue to the St. Peter´s Abbey; a famous Benedictine monastery. After that you will take the tram and funicular up to the Salzburg Fortress where you will have an admiring view over the whole UNESCO World Heritage City.
Create your own itinerary based on your person interests and preferences and visit places that only locals know about in the center of Salzburg. We will organize your tour, the transport and the logistics in advance so that you can make the most of your time.

Meet your tour guide at your pre-arranged time and place, probably your hotel. Together with the tour guide you will start walking along the famous Getreidegasse- where you will discover the old shops and find Mozart´s Birthplace which is a museum nowadays.

At the end of Getreidegasse we arrive at Mozarts square where we will make our way towards the emblem of Salzburg – the cathedral called "Dom" in German. There we make a picture stop before we will pass the famous Prince-Bishop´s Palace in baroque style continuing to the St. Peter´s Abbey – one of the most famous Benedictine monstaries in the world in beautiful rococo style. Your tour guide will take you to the famous Stifts cellar restaurant which is the oldest restaurant in Salzburg and you can try some Salzburg´Tradition if you like.

In the afternoon you will make your way with your tour guide with tram and then funicular up to the fortress of Salzburg called Hohensalzburg. First you will have a splendid view over the whole city which has been a UNESCO World Heritage Site since the year 1997 and afterwards you can strall around the famous emblem of the fortress.

After returning to the very center you will depart on a beautiful cruise on the Salzach river for an hour, perfect for a glass of wine and taking pictures.