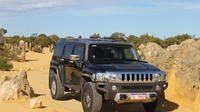 204 €
Pinnacles Hummer 4WD Day Trip from Perth Including Moore River and Caversham Wildlife Park
Enjoy a personalized small group 4WD tour by Hummer for a maximum of four passengers departing from Perth. Visit the incredible Pinnacles, Lake Thetis,Thirsty Bay for it's turquoise waters followed by a trip back along the coast to Guilderton. Sit back and indulge in a delicious lunch at Amore cafe on the Moore River mouth before departing for Caversham Wildlife Park where you will have the opportunity to get up close to koalas, kangaroos and wombats.
Departing your hotel at approximately 7am, your driver guide will head for the pinnacles along the new Indian Ocean Road.

Arriving at the Pinnacles at approximately 9:30am, you will be one of the first to arrive with approximately 1-hour to walk among and explore the unique Pinnacles with its eerie nature. There is a 4km loop drive that you will have access to in the hummer. Onsite is a gallery and gift shop if you wish to gain a better understanding about this incredible site. Many of the Pinnacle structures resemble creatures such as a Dolphins, Elephants and even Batman. You will be sure to spot pinnacles that remarkably resemble something other than the limestone formations.

From the Pinnacles, enjoy a short drive 20 km north to Cervantes where you will find yourselves at Lake Thetis, home of the stromatolites formed from microbiobials over thousands of years. Next, take a short 5 minute drive to Thirsty Bay where you will be able to view the coastline at 230 degrees and its pristine sandy beach line meeting the magnificent turquoise (Indian Ocean) coast. You will now be in a territory renowned for its export grade crayfish.

At 11:15am head for the coastal fishing towns of Seabird and Guilderton 110 km south west toward Perth. At Guilderton we head down for lunch on the Moore River mouth of the Guilderton grassy foreshore from 1pm through until 2:15pm. Enjoy a delicious lunch at Amore Cafe where you can take a break and soak in the local atmosphere of the river mouth.

After lunch, pack up and head 115 km south east toward Caversham Wildlife Park via Gingin, Bullsbrook and the Royal Australian Air Force base driving through prime cattle, sheep and goat farming regions. Arriving at the park at approximately 3:40pm, enjoy time touching and feeding some of Australia's native animals.

Optional: Time Permitting.
Caversham Wildlife park is nestled nearby the Swan Valley Winery region. If there is time, your driver might stop at the famous Sandalford Estate Winery for 20 minutes before closing at 5pm. You will be able to enjoy some wine tasting and view their impressive and extensive vines.

Return to your hotel at approximately 5:30pm.