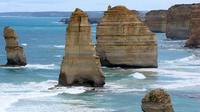 211 $
Melbourne Combo: Great Ocean Road and Phillip Island Penguin Parade Day Trip
Enjoy excellent value for money by purchasing two of Melbourne's most popular day tours, the Great Ocean Road tour and the Phillip Island penguin parade tour together and save. Enjoy a day traveling along the awe inspiring Great Ocean Road to the famous Twelve Apostles. Then, on another day travel of your choice to Phillip Island to witness the phenomenon that is the Penguin Parade. Book these two tours together as a package to save money for you and your family. The date you book in will be for your Great Ocean Road tour, the date you choose for your Phillip Island trip is up to you, they don't need to be consecutive!
Enjoy the experience of two day tours at a value for money price. The Great Ocean Road and Penguin Parade tours can be done on consecutive days or not, it's up to you.

Penguin Parade Tour:
Travel by coach towards the historical Churchill Island Farm. Here, take in the picturesque views and enjoy a delicious afternoon tea (own expense) which consists of Devonshire Tea with scones, jam and cream (approximately 1-hour stop).

Arrive at the Koala Conservation Centre and walk along an elevated boardwalk where Koala's are looked after in natural habitats. Watch them as they sleep up in the Eucalyptus trees or peer down at you with a content smile (approximately 20-minute stop).

Next up is in the famous penguin parade. Every evening at sunset, the little penguins make their way home from the sea to their burrows on Summerland Beach. Watch as they waddle across the beach right in front of you, an amazing experience best seen from the Penguins Plus Premium Viewing Area. Also enjoy a complimentary drink when you get to the Penguin Parade (time spent at the Penguin Parade does vary depending on when the penguins come out and seasonality).

Great Ocean Road Tour:
After meeting your tour guide, travel approximately 2-hours to your first stop, the Twelve Apostles. Here, you'll enjoy a unique look at the Twelve Apostles located right on the water's edge at Gibson's Steps, a terrific opportunity to take amazing photos. There is also a stop at the boardwalk lookout to get a vast look out to the Twelve Apostles (stop is approximately 45-minutes long). Weather permitting there is also the opportunity to take a breathtaking helicopter ride over the coast (own expense).

Next, witness the power of this majestic coastline with the golden sandy beaches, stark cliffs and history at Loch Ard Gorge. The gorge is the site of the Loch Ard shipwreck. There is also time to visit Island Arch and Razorback, formed by the rough seas (approximately a 45-minute stop)

For morning tea your driver guide will treat you to an Aussie style Bush Billy tea served with the traditional lamington cake (approximately 25-minutes). There are also crackers to have with Australia's favorite spread, Vegemite. Stop at the stunning seaside resort town of Apollo Bay, here you can purchase lunch, perhaps some fish and chips as you sit on the beach. Before the journey back to Melbourne there is an afternoon tea stop at the popular seaside town of Port Campbell (own expense, stop approximately 20 minutes).