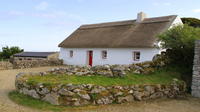 49 €
Ireland's Winning Experience 2017 - Connect with Gaelic Culture and Landscape on the Wild Atlantic Way
Welcome to an experience like no other, connecting you with our Gaelic way of life - the unique music, nature, language, customs and mysterious ancient bogland of Conamara. Stunning landscape and luminous skies surround you as you journey to the international award-winning sustainably restored hill-village of Cnoc Suain, and later to the picturesque seaside village of An Spidéal. This 'Conamara Gaeltacht Experience' is a highly acclaimed half-day excursion, celebrating the indigenous culture and landscape of the Conamara Gaeltacht (Gaelic speaking area of Connemara), on the Wild Atlantic Way. Presented in English.
Cnoc Suain will connect you with the unique culture – traditional & contemporary – of the Conamara Gaeltacht through intriguing stories, demonstrations, tastings, live music and dance. Presenters, guides and musicians share their wealth of knowledge and experience with passion and enthusiasm.
Learn about customs and traditions in The Thatched Cottage (pictured);  Discover Bogland, Nature and Curiosities in the Field Room; Experience Traditional Irish music, dance & fun in the Meeting House.
Time spent at Cnoc Suain – 2-hours approx.
Create uniquely memorable photos with stunning backdrops of rugged Connemara landscape and wild Atlantic seascapes on the Gaelic Coast.
Enjoy a relaxing visit (c.45-minute) to the beautiful Conamara Gaeltacht fishing village of An Spidéal (Spiddal), on the Wild Atlantic Way. We will provide you with information and suggestions on 'Things to see and do' in An Spidéal, including a leisurely stroll along the shores of Galway bay; exploring 'An Ceardlann' craft centre; visiting places of local historical interest or popping in to a village café, pub or restaurant.
Cnoc Suain has won numerous awards for authentic cultural experiences and visitor satisfaction. These include,
2017 Ireland's 'Best Cultural Experience' - Irish Tourism Industry Awards.
2016 GreenLeaders Platinum Award – Trip Advisor;
2015 'Phoenix Award' – Society of American Travel Writers;
2015 'Cultural Heritage Award' – World Responsible Tourism;
2010 'Global Vision Award' – Travel + Leisure;
2009 'World Ethical Travel Award' – The Guardian;
What people say about Cnoc Suain;
"A beautifully restored hill village, Cnoc Suain offers a thorough immersion in local culture. It is serving as a trailblazer and a powerhouse in promoting sustainability." – Travel + Leisure.
"For a true cultural immersion in the Gaelic way of life, visit Cnoc Suain. The evocative setting,
hospitality and genuine experiences makes it a must-visit destination."  Happy Trips.
"Cnoc Suain is truly unlike anywhere I've ever been" The Sunday Independent.
*(Connemara is the English translation of Conamara; Cnoc Suain means 'Restful hill').