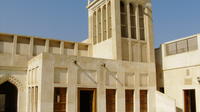 278 $
Half Day Private Tour: Old Capital of Bahrain City Tour
This four hour tour starts 09.00am, you will visit, Shaikh Isa Bin Ali House, Shaikh Ebrahim Centre, Kurar House and Muharraq souq.
Meet your English speaking guide in the hotel lobby and start your tour. The first visit will be to Shaikh Isa Bin Ali House situated in Bahrain's second city Muharraq. The house was constructed by Shaikh Hassan Bin Abdulla Bin Ahmed Al-Fatih and was used by Shaikh Isa Bin Ali as his residence and Centre of Government from 1869 - 1932. The house consists of four main sections: the family wing, the Shaikh's wing, the Guest's wing and the attendant's wing. The house is designed in traditional Arab style where the rooms are directly overlooking an open courtyard, with a wind tower - a feature of the traditional architecture in the Arabian Gulf region. The house represents the 19th century construction style in which local building materials were used. Such materials included coral stone, mortar and palm tree trunks. The windows are decorated in ventilated gypsum geometrical designs for which Bahrain was well known.
Then next visit will be to Shaikh Ebrahim Centre. Shaikh Ebrahim bin Mohammed Al Khalifa,was a well-known intellectual in the early part of the 20th century. The Centre, which is home to research, a library and a lecture hall opened in 2002. This building today hosts a series of rotating lectures, exhibitions and recitals by prominent writers, philosophers and artists from all over the world.
Next proceed to the Kurar House. The focus of the prettiest house of the bunch a personal favorite too, is the age-old craft of embroidering traditional throbs with gold thread. Downstairs, there's a leafy courtyard surrounded by rooms displaying handmade garments, while upstairs you can watch women wielding needle and thread.
The day's last attraction will be Muharraq souq that is most well-known for its halwa or sweet shops. Halwa is a sticky sweetmeat, a little like Turkish delight, which is still made in the traditional way in enormous copper pots, by the halwachi or sweet maker, much as it has been made for the last couple of centuries. The recipe uses butter or oil, sugar and water which is boiled for long periods, and then flavored with rose water, cardamom, saffron and decorated with almonds, pistachio or other nuts. One famous shop is that of Hussein Mohamed Showaiter Sweets, but there are many other equally good sweet makers to choose from. Taste the halwa before you buy; fresh warm halwa is sticky and very sweet, but well complemented with a cup of unsweetened qahwa.

You will then be returned to your hotel around 13.00.