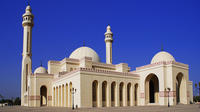 444 $
Full Day Private Tour: Treasures of Bahrain
An 8 hour tour to discover many parts of Bahrain. Visit; Al Fateh Grand Mosque, Bahrain National Museum, Bait Al-Qur'an Museum, Bahrain Fort, Royal Camel Farm at Janabiya, Burial Mounds and Manama Souq.
Be picked up from your hotel lobby by your English speaking guide at 09.00am. The first stop is at Al Fateh Grand Mosque. This is the first mosque in the region to open to tourists and is the largest mosque on the island, which can accommodate 7,000 worshippers. With its exquisite Bahraini architecture, crowned by the world's largest fiberglass dome and blessed with tranquillity reserved for the holiest of holy places, it is important to dress modestly and remove footwear before entering. Women should cover their head.

The second stop is the Bahrain National Museum. This houses a wonderful collection of exhibits, from contemporary Bahraini paintings, sculptures and ceramics, to scenes depicting life in the Dilmun civilization of 6000 years ago, and even a reconstructed burial mound, complete with skeleton! A section on Arabic calligraphy, including a beautiful display of illuminated Qur'ans and other religious documents, it is breathtaking, and of course no visit would be complete without a closer look at traditional trades and crafts, which are cleverly displayed in a reconstruction of a typical souq of the 1930s. Next it is on to Bait Al-Qur'an Museum. Bait Al-Qur'an or 'House of Qur'an' was inaugurated in March 1990. It is a specialized Museum consisting of several floors and characterized by a most distinctive Islamic design. It houses ancient manuscripts of the Holy Qur'an that have been collected from the Islamic World in general and from North Africa, Iran, India and China in particular. It also displays rare great Islamic artifacts, jewelry and gold-ornamented glass utensils, indicating the great Islamic heritage arts that have had an influence throughout the world.

You will then stop for lunch before visiting the Bahrain Fort, a 16th century fort built by the Portuguese. The area where it is located is known as Qalat Al Bahrain with lots of hidden history of Dilmun Civilization. Onto the Royal Camel Farm at Janabiya that has more than 400 camels and was set-up by His Highness, the late Shaikh Mohammed Bin Salman Al Khalifa, uncle of the current ruler. You will then be taken to the Burial Mounds Notably scattered along large stretches of Shaikh Khalifa Highway, near the Hamad Town, these archaeological mounds are of great historical importance going back to the Dilmun civilization in the third millennium BC. Other archaeological mounds, which go back to the Hellenistic period of Alexander, the Great (2500 BC) are also found in various areas in Bahrain.

The final stop will be Manama Souq/ Gold City that is a very busy and vibrant marketplace with a number of traditional and modern browsing zones. The visitors can select and browse almost all sorts of rare and common spices, throbs, amazing fabrics, kaftans, dry fruits, regional unique handicrafts, nuts, and almost all other things. You will be returned to your hotel at 17.00.