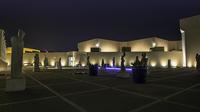 449 $
Full Day Private Tour: Pearl of Bahrain
An 8 hour tour to discover many parts of Bahrain. Visit; Al Fateh Grand Mosque, Bahrain National Museum, Bahrain Fort, Manama Souq, Shopping at the Bahrain.
Be picked up from your hotel lobby by your English speaking guide at 09.00am. Visit Al Fateh Grand Mosque. This is the first mosque in the region to open to tourists and is the largest mosque on the island, which can accommodate 7,000 worshippers. With its exquisite Bahraini architecture, crowned by the world's largest fiberglass dome and blessed with tranquillity reserved for the holiest of holy places, it is important to dress modestly and remove footwear before entering. Women should cover their head.
On to visit Bahrain National Museum. This houses a wonderful collection of exhibits, from contemporary Bahraini paintings, sculptures and ceramics, to scenes depicting life in the Dilmun civilization of 6000 years ago, and even a reconstructed burial mound, complete with skeleton. A section on Arabic calligraphy, including a beautiful display of illuminated Qur'ans and other religious documents, it is breathtaking, and of course no visit would be complete without a closer look at traditional trades and crafts, which are cleverly displayed in a reconstruction of a typical souq of the 1930s.
You will then move on to visit Bahrain Fort – a16th century fort built by the Portuguese. The area where it is located is known as Qalat Al Bahrain with lots of hidden history of Dilmun Civilization.

Stop for lunch before continuing on to visit Manama Souq/ Gold City. Manama Souq in Bahrain is a very busy and vibrant marketplace with a number of Traditional as well as modern browsing zones. The marketplace or souq is situated in the Central part or the down town of the city of Manama, close to Bab Al Bahrain The travelers and visitors can select and browse almost all sorts of rare and Common spices, throbs, amazing fabrics, kaftans, dry fruits, regional unique Handicrafts, nuts, and almost all other things one wish to collect. The last attraction for the day will be Shopping at the Bahrain City Centre which is the first and largest mixed-use development in Bahrain offering the best shopping, leisure and entertainment experience to its customers under one roof. Strategically located on Sheikh Khalifa Bin Salman Al Khalifa Highway in the heart of Manama, Bahrain City Centre has introduced a world-class retail ambience and hundreds of other 'firsts' to the Kingdom including 150 of its over 350 internationally reputed brands making their debut in the country. The Centre's stunning entertainment offer includes the region's first climate-controlled indoor/outdoor water park.
At 17.00 you will be transferred back to your hotel.