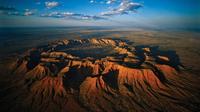 534 $
Fixed-Wing Scenic Flight Including Gosses Bluff, Kings Canyon & Lake Amadeus from Ayers Rock
This tour takes you over the magnificent Lake Amadeus and Kings Canyon before arriving at the spectacular Gosses Bluff. Created by a meteorite that crashed into the earth 143 million years ago, this rugged feature surrounds a crater 3.1-mile (5-kilometers) in diameter and 492-feet (150-meters) high. Enjoy guaranteed window seats on all flights. Your professional pilot will provide you expert commentary along the way.
Departing Ayers Rock Airport, your journey starts with a low level pass following the inlet into Lake Amadeus. Your pilot will conduct some orbits at low level to witness the incredible patterns on the surface of the lake and the beautiful colors that make this one of the most breathtaking views in the area. Climb up and take in the 112-miles (180-kilometers) of the lake and its patterns before departing for Kings Canyon.

Enjoy the flight across the Australian outback and gain an appreciation of its vastness. Approach the George Gill Range and the opening of Kings Canyon lined with Ghost Gums before conducting orbits overhead the canyon. The pilot will point out the Lost City along the canyon edge and the Garden of Eden waterhole located inside the canyon.

Departing the canyon, you will fly over the breath-taking George Gill and Middle Ranges, land that has been untouched for decades and is inaccessible by road. This is a sight seen by very few people and the only way to truly appreciate it is by air. You will orbit the massive crater where the meteorite impacted the earth. This area is known as Tnorala to the Western Arrernte Aboriginal people, be sure to ask your pilot the story behind the origins of this amazing site.

On your way back to the airport, fly over the ranges and Lake Amadeus. Your local pilot knows all about the area and will provide you with expert commentary, so please feel free to ask as many questions as you like. Experience a view like no other!