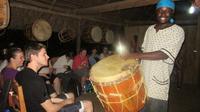 17 $
Drumming Dancing and Dinner at Indigenous Garifuna Style
The perfect way to dive into local culture! Come and experience a two-hour Garifuna drumming, dancing and dinner extravaganza.

Under a beautiful traditional Thatch Palapa on the edge of Punta Gorda town, you will be given a brief overview of the fascinating Garifuna people and culture of southern Belize.
You will then be treated to a professional group performance in a number of traditional rhythms and songs. If your feet start to tap along, then don't despair, as you'll be given the opportunity to join an impromptu traditional dancing lesson.

Once you have worked up a slight sweat and earned your dinner, it's time to sit down, relax and enjoy a traditional Garifuna meal.
When you arrive at our beautiful peaceful location on the edge of Punta Gorda town, there is a good chance you will see the local fireflies, hear howler monkeys, or the local frogs as the sun sets. We will make sure you are comfortable under our beautiful traditional Thatch Palapa, made entirely from natural jungle leaves, trees and vines.

Once every body has settled, our chief instructor will welcome you and give you a brief history and introduction to the unique and fascinating Garifuna culture of southern Belize. You will have a chance to look at the traditional drums that are hollowed from solid trees, covered with deer skin and then secured and tightened with jungle vines and sticks.

You will then get to sit back and enjoy a professional group performance by our family band, who will introduce you to several traditional rhythms and songs. The rhythms are infectious and you may well find yourself tapping your foot or simply mesmerized by the speed of the drummers' hands.
After playing a few songs, you will all be invited to stand up for a group drumming lesson, or if you prefer, you can just stay seated and watch the rest of your group join in.

After shaking your hips for a song or two, it's time to sit down and relax again and enjoy a delicious plate of "hudut" - a traditional Garifuna dish of fresh fish sautéed in coconut milk mildly spiced with cilantro and other local herbs, served with mashed plantain.
For vegetarians or non-fish eaters, we can arrange an alternative meal.