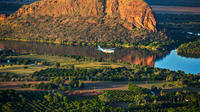 595 $
Bungle Bungle Scenic Flight Including Ground Tour of Argyle Diamond Mine
Your tour includes both a scenic air tour in a 14-seater Cessna Caravan aircraft plus a ground tour of the Arygle Diamond Mine where famous pink diamonds are mined. Your scenic flight passes over the stunning Lake Argyle and the famous Bungle Bungle Range in the World Heritage listed Purnululu National Park. After landing at the mine you will be taken on a fascinating ground tour through the processing plant, overlook the open cut pit. Enjoy a buffet lunch and experience the conditions of a worker first hand.
Your courtesy transfer to our air conditioned terminal will commence 45-minutes prior to departure.
You will receive a Bungle Bungle handout and a briefing from your pilot in the terminal where you can also collect your complimentary bottled water and lollies.

Your flight in our air conditioned 14-seater aircraft will see you flying out over Lake Kununurra, over the Ord Irrigation scheme and then down to Lake Argyle and the Ord Top Dam Wall. Be enthralled with the full expanse of Lake Argyle. Continue down to the Bungle Bungle Range where you will be amazed by the beehive domes which make up the Purnululu National Park. You will have 20-minutes to experience the aerial views and really appreciate the spectacular scenery.

You will land at the Argyle Diamond Mine where you will jump into our air conditioned mini bus and start your ground tour. Firstly you will visit the village store where Argyle souvenirs and Argyle diamond jewellery can be purchased. Buffet lunch will then be served to allow you to experience the conditions as a mine worker first hand.

Visit the lookout point to view the open cut mine site. Return to the mini bus where your driver will take you through the processing plant and explain the technology and processes used in diamond production. See the diamond display gallery featuring over $1 million of Argyle Diamonds and jewellery.

On your way back to Kununurra you will overfly Lake Argyle and the Carr Boyd ranges.

Throughout your tour your pilot will offer personalized commentary. This tour gives a fantastic insight into diamond production with amazing views of the East Kimberley.

On return to Kununurra you will be dropped back off at your accommodation.