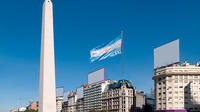 23 $
Buenos Aires City Tour
See the symbol of this amazing city, the Obelisk. Visit different city squares such as Plaza de Mayo, Plaza San Martín, and Plaza Congreso, and ride along several avenues such as Corrientes Ave, May Ave, 9 of July Ave, among others. The 4-hour tour will take you to such historical neighborhoods as La Boca, San Telmo, and Montserrat, as well as the elegant neighborhood Recoleta, and the modern Puerto Madero. You will also see the famous Football Stadium.
This tour is a great way to gain your bearings in Buenos Aires. Spend some time with the a local expert in this panoramic introduction to Buenos Aires. Get to know the most important neighborhoods in Buenos Aires and their famous landmarks. Your city exploration starts with the symbol of the city, the Obelisk. This giant monument was built in 1936 to commemorate the 400th anniversary of the city. One of the city's unique features is the many beautiful open squares of colonial Spanish descent. You'll fall in love with the Plaza de Mayo, where you will have some free time and explore the area. Also, get to see Plaza San Martín, and Plaza Congreso. The avenues are lined with equally impressive sights including favorites like Corrientes, Mayo and 9 de Julio, which is the widest street in the world containing 22 lanes.

The financial and commercial areas of Buenos Aires are home to many interesting local sights and you can't miss the home of the Argentine's favorite past time, the numerous massive soccer stadiums throughout the city. Buenos Aires has a lively multi-cultural blend of generations-old families of a heavily European-South American blend and we will travel through their neighborhoods to give you a feel for the city and the people who call it home. Discover architecture in historic neighborhoods like San Telmo, Montserrat, and La Boca. While in La Boca enjoy some free time to explore the colorful El Caminito.

Enjoy the finer things in life in elegant neighborhoods like Palermo and Recoleta, where you will have some time to explore the second oldest church in Buenos Aires as well as the famed Recoleta cemetery. Between the neighborhoods, you'll enjoy the beauty of nature at places like Lezama Park and Tres de Febrero Park.