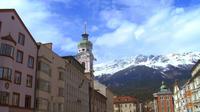 208 $
4-hours Innsbruck City Walking Tour with Private Guide including Swarovski Crystal World
Spend a half day in Innsbruck with your private tour guide – just you and your tourguide. With your private tour guide, you will walk first through the old town of Innsbruck where you will see the emblem called "golden roof", the Imperial castle, the cathedral and the buildings of the old town. A short climb by cable car to the local peak "Hungerburg" will give you a great view to the surrounding mountains and the Tyrol area. On return, you continue by public bus to Wattens, the place of Swarovski Crystal world exhibition. After the stay at the Crystal world, you'll travel back to Innsbruck with your tour guide.
Create your own itinerary based on your person interests and preferences and visit places that only locals know about in the center of Innsbruck. We will organize your tour, the transport and the logistics in advance so that you can make the most of your time.

Meet your tour guide at your pre-arranged time and place, probably your hotel. Together with the tour guide you will start your walking tour in the very center of Innsbruck where you will take a photo-stop at the "Golden roof" building – the emblem of the old town, which was Completed in 1500, the roof was decorated with 2,738 fire-gilded copper tiles. Close by you will find the biggest and first Swarovski crystal shop because the Swarovski family originates from Innsbruck. You will have time to look around and get a tour about the history of this famous company. Continuing we will see Innsbruck cathedral also the Imperial Palace of Innsbruck which is a great picture stop. After the walk through the city center with it's old buildings, we'll have a coffee break at the legendary Sacher coffee house, time to enjoy the world's known Sacher cake. Together with your tour guide, you'll continue along the Inn river to the cable car station, which will take you up to the local hill "Hungerburg" for a scenic stop with stunning views to the city of Innsbruck and the surrounding mountains.

After the return travel, your tour guide will lead you by public bus to the Crystal World of Swarowski, 25 minutes outside the city center. You'll see the great exhibition about crystals in the park. The tour ends with the return travel to Innsbruck, where your tour guide will lead you back to the hotel or the tour ends at the railway station.