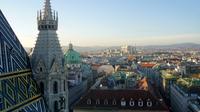 160 $
4-hour Vienna City Tour with Private Guide
Spend a half day in Vienna with your private tour guide - just you and your guide.

Walk along the famous Ringstreet; the imperial boulevard of Vienna with it´s most beautiful buildings like the Opera House, the Imperial Palace, the Parliament and many more. You will also walk along the Graben, Vienna´s most exclusive shopping street with the St. Stephan´s Cathedral – Vienna´s landmark in front. Later you will make your way with your private tour guide to the Kahlenberg, where you will have a magnificent view over the whole city, the Danube and the picturesque vinyards with a stop in the UNESCO world heritage village of Grinzing at a famous Heuriger (wine tavern) for some good old Schnitzel or Apfelstrudel (apple pie)
Create your own itinerary based on your person interests and preferences and visit places that only locals know about in the center of Vienna. We will organize your tour, the transport and the logistics in advance so that you can make the most of your time.

Meet your tour guide at your pre-arranged time and place, probably your hotel. Together with the tour guide you will start with a transfer by "Vienna Ring Sightseeing Tram" along the famous ring street with its famous buildings starting with the Opera House, continuing to the Hofburg (Imperial Palace) to the Parliament, the Museums Quarter (a complex of different museums and cafés) along the famous Ring Street. After a stop in a typical Vienna coffé house and a Sacher cake we continue into the very center where in the middle of it rises the emblem of Vienna, the St. Stephan´s Cathedral. After taking the elevator to the top and visiting the inside of this beautiful cathedral you continue with your private tour guide to the Graben – Vienna´s finest address for exclusive shopping along with the Kärntnerstrasse.

After that you will make your way with the metro with your tour guide to Heiligenstadt where you will take the bus up the top of the Kahlenberg – from where you will have a impaccable view from top over Vienna´s whole city and wine regions. After taking pictures on the top of the mountain we will make our way by walking to the UNESCO World Heritage Town Grinzing, which is famous for it´s beauty and the Heuriger; the Heuriger are wine taverns with food – which can only be prepared by the family who owns the tavern. The is only allowed to come from the own vineyard. There will be traditional folkloric "Schrammel music" and you can try one of Vienna´s famous dishes like the Viennese Schnitzel, the Apfel stroudel and many more.